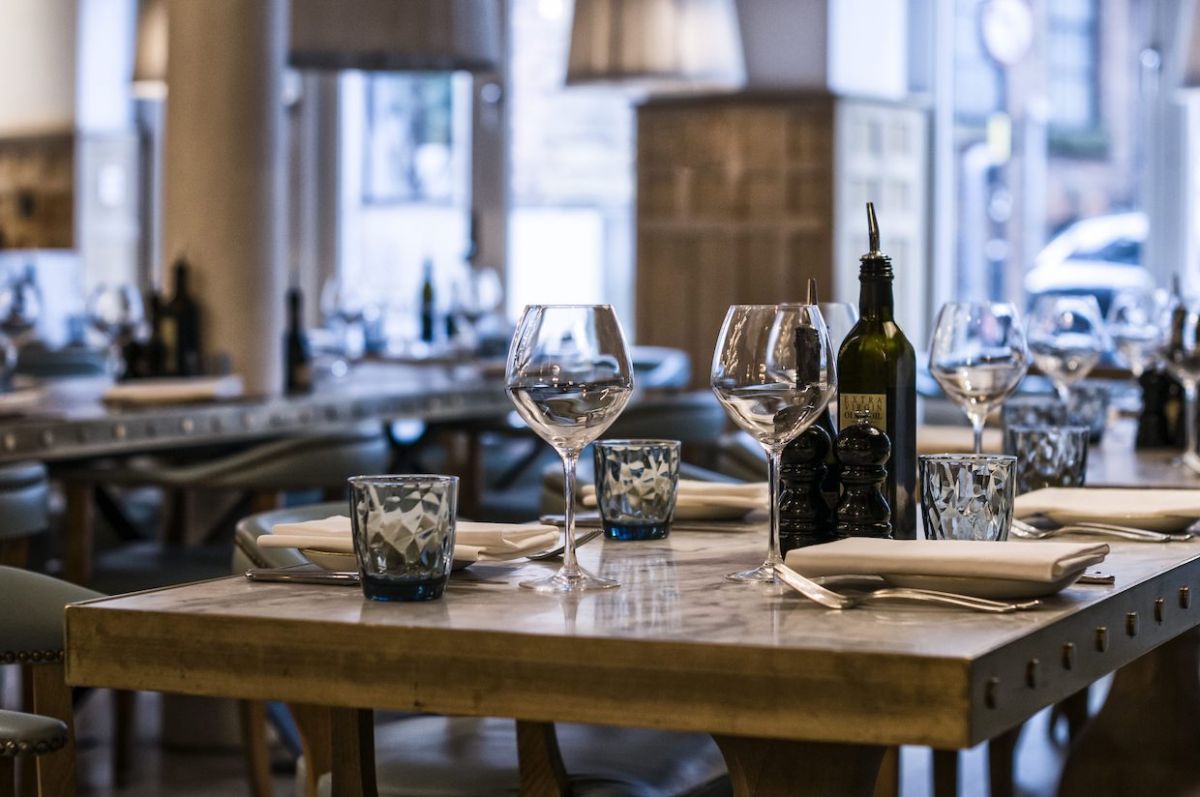 A un anno dall'inizio della pandemia l'Italia marcia ancora a singhiozzo, i numeri dei contagi risalgono, mentre l'asticella per la ripartenza del fuori casa si sposta dal secondo semestre del 2021 alla prima metà del 2022. Ma per gli attori dell'out of home – catene, attori della ristorazione collettiva e player della distribuzione – questo è il tempo di riconoscere i cambiamenti strutturali del settore e disegnare le strategie di risposta.
Nel webinar "Dalla resilienza al rilancio: progetti per l'economia del fuori casa" firmato Food Service la lente l'ha fornita AlixPartners, con tre surveys (una per ciascuna area del fuori casa) illustrate dall'Enterprise Improvement Director Lorenzo Novella: la penna per tratteggiare il futuro l'hanno impugnata, invece, Andrea Valota, general manager de La Piadineria, Alessio Bordone, sales executive director di Cirfood, e Giorgio Annis, amministratore delegato di Centro Cash.
QUALI PROSPETTIVE PER IL DELIVERY?
Con 4 mila intervistati tra i consumatori finali e circa mille ristoratori indipendenti interpellati, la ricerca AlixPartners ha posto l'accento sul delivery, fenomeno dai numeri mai nemmeno sfiorati prima (il 31% dei consumatori ha fatto ricorso ad asporto e consegna domestica più di una volta a settimana nel 2020) e ormai endemico al settore. Ma al contempo profila un servizio con prospettive incerte, se è vero che il 30% del panel campione lo considera un mero sostituto dell'out of home e quasi un terzo dichiara di aver intenzione di "utilizzarlo molto meno" nel post pandemia.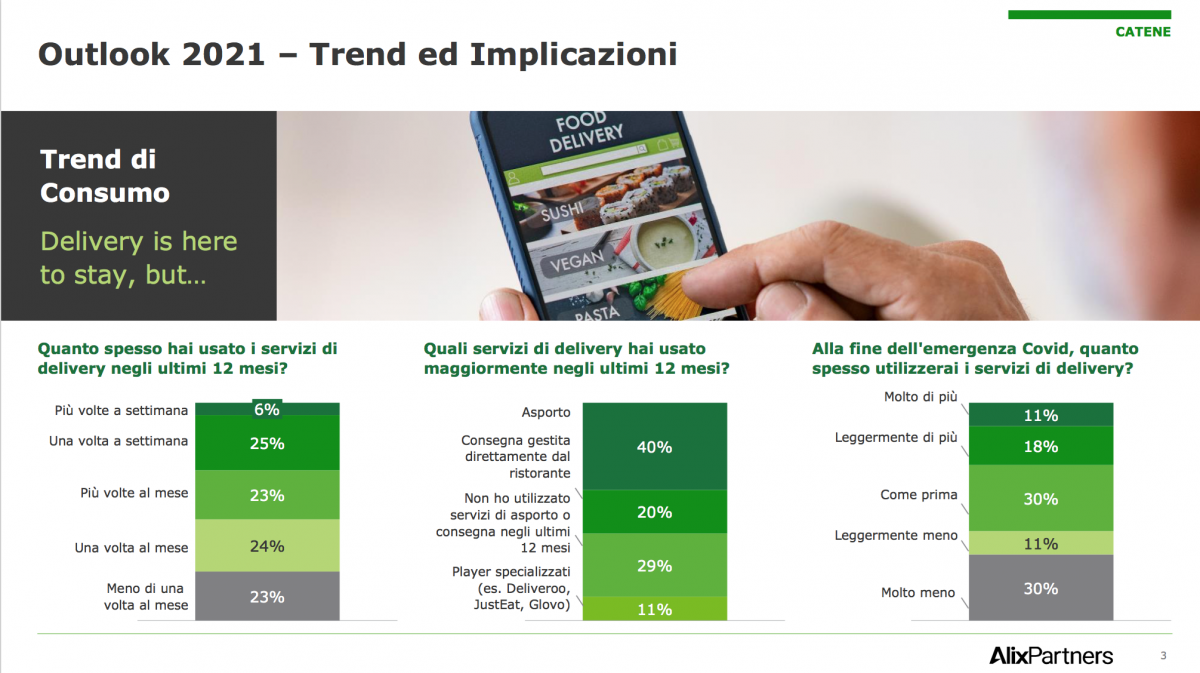 Coniugare on-premise e servizio a domicilio è insieme occasione e sfida per la ristorazione commerciale. "Per La Piadineria l'home delivery digitalizzato ha rappresentato un'opportunità, anche se dall'efficacia variabile, che ha imposto investimenti in formazione del personale e riorganizzazione del punto vendita", ha rimarcato Andrea Valota. "Non solo: grossi sforzi sono stati fatti sull'adattabilità del menu, del prodotto, sui bundle e sullo sviluppo del packaging". "Per quanto riguarda le prospettive del canale", ha aggiunto il manager de La Piadineria, "immaginiamo un calo della frequenza di utilizzo nel momento del ritorno stabile del consumo in store, ma al contempo ormai la diffusione nell'utilizzo degli strumenti digitali per fruire del servizio, con le app di delivery che sono passate da 3 a 5 milioni di utenti, ha allargato il mercato".
SMART WORKING E FLUIDITÀ DI RUOLO
Nell'area della ristorazione collettiva, su cui l'impennata dello smart working pesa in modo significativo, AlixPartners ha immaginato lo spazio di un business re-boot. E in particolare ha posto l'accento sul bisogno emergente di healthy food e sulle soluzioni alternative alla mensa. Come i boxed meals, un trend di offerta e di consumo in forte crescita, che il 56% del campione intervistato vede in aumento anche nel post-pandemia con la qualità come tratto trainante (oltre l'80% la considera caratteristica primaria di scelta).
"La pandemia ha riscritto spazi, tempi e modalità di consumo", ha commentato Bordone di Cirfood, "e nella ristorazione collettiva si è imposto il concetto della fluidità di ruolo. Il consumatore esprime necessità diverse nell'arco della settimana lavorativa: un pranzo in mensa un giorno, a domicilio in un altro, in momenti diversi dalle giornata. E il ruolo di un'azienda come la nostra è intercettare questi nuovi bisogni pena la perdita di opportunità oggi e anche nel post-Covid".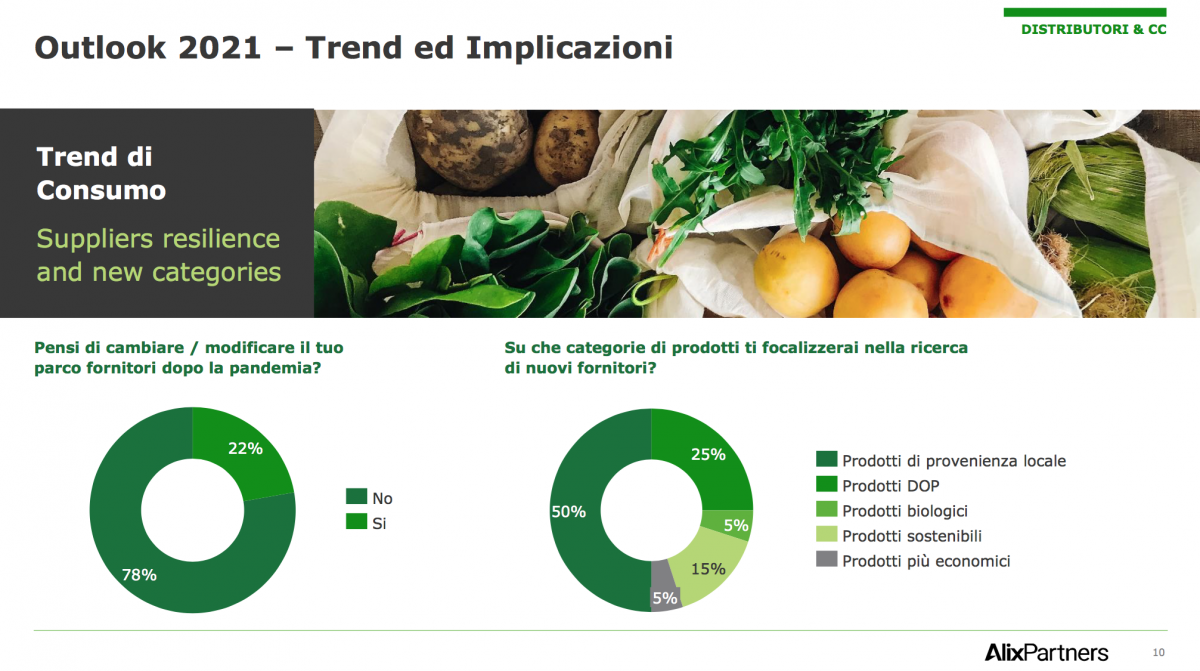 "Occuparsi di welfare offrendo servizi integrati ai dipendenti è una delle risposte che Cirfood dà a questo nuovo bisogno di flessibilità. Altre proposte includono meal box ordinabili da piattaforme integrate, e ritirabili magari in appositi locker, e le loro evoluzioni. La fornitura di queste soluzioni ci ha permesso di dare continuità al nostro servizio e anche di capire quali sono gli elementi che ne decreteranno il successo in futuro: qualità, varietà e ingredienti sani e packaging sono cruciali nella customer experience".
FLESSIBILITÀ PER RAFFORZARE LA CATENA
Se si parla di catena di approvvigionamento le nuove sfide per i fornitori includono il supporto ai clienti in termini di flessibilità e riduzione dei volumi per ordine. La linea di continuità dal pre al post pandemia è il mantenimento di solide (e storiche) relazione tra gli esercenti e la loro supplier base e la sensibilità virtuosa verso prodotti locali, d'origine protetta, sostenibili e bio. "Il nostro modello di cash & carry è teso a soddisfare appieno i bisogni emersi durante la pandemia e scanditi dalla discontinuità di funzionamento del fuori casa, come la riduzione delle quantità d'ordine, la maggiore frequenza di fornitura e la competitività sui prezzi", specifica Giorgio Annis di Centro Cash. "A questo abbiamo aggiunto il delivery, che però offriamo come servizio aggiuntivo, e aumentato la leva promozionale targettizzandola sulla tipologia di cliente. E se dal lato Horeca questo ha significato mantenere il rapporto di fiducia investendo nella ripresa, sul versante del piccolo retailer ci ha ripagato con crescite significative anche nei periodi di lockdown". "Allo stesso modo pensiamo che fonte di generazione di valore", aggiunge Annis, "sia dare sostegno ai piccoli produttori del territorio".
L'EREDITÀ (POSITIVA) DELLA PANDEMIA
Quali sono dunque, in una parola, i cambiamenti positivi che un evento tanto sconvolgente quanto inatteso come la bufera del Coronavirus ha innescato fatalmente in un comparto che ha dato un esempio di stoica resistenza? "L'evoluzione digitale", non esita a dire Valota, "ha prodotto modalità di interazione inaspettate e impresso un'accelerazione nella fruizione e nei servizi che gioveranno al comparto e agli utenti finali". "La pandemia ha lasciato qualcos'altro", ha aggiunto Bordone, "una nuova o rinata consapevolezza verso un ritrovato equilibrio tra concetti che prima sembravano dicotomie: uomo-ambiente, buono-salutare, lavoro-vita privata, sicurezza-socialità. E in ultima analisi si è arrivati a un nuovo approccio al cibo e ai riti ad esso collegati. Per il settore e per le imprese che ci operano percorrere questo solco è un'opportunità e un dovere". "Sostenibilità, ambientale ma anche etica, sono concetti che mi auguro siano entrati nella mente e nei pensieri dei consumatori ma anche di tutti gli attori della nostra industria", ha concluso Annis.
© Riproduzione Riservata