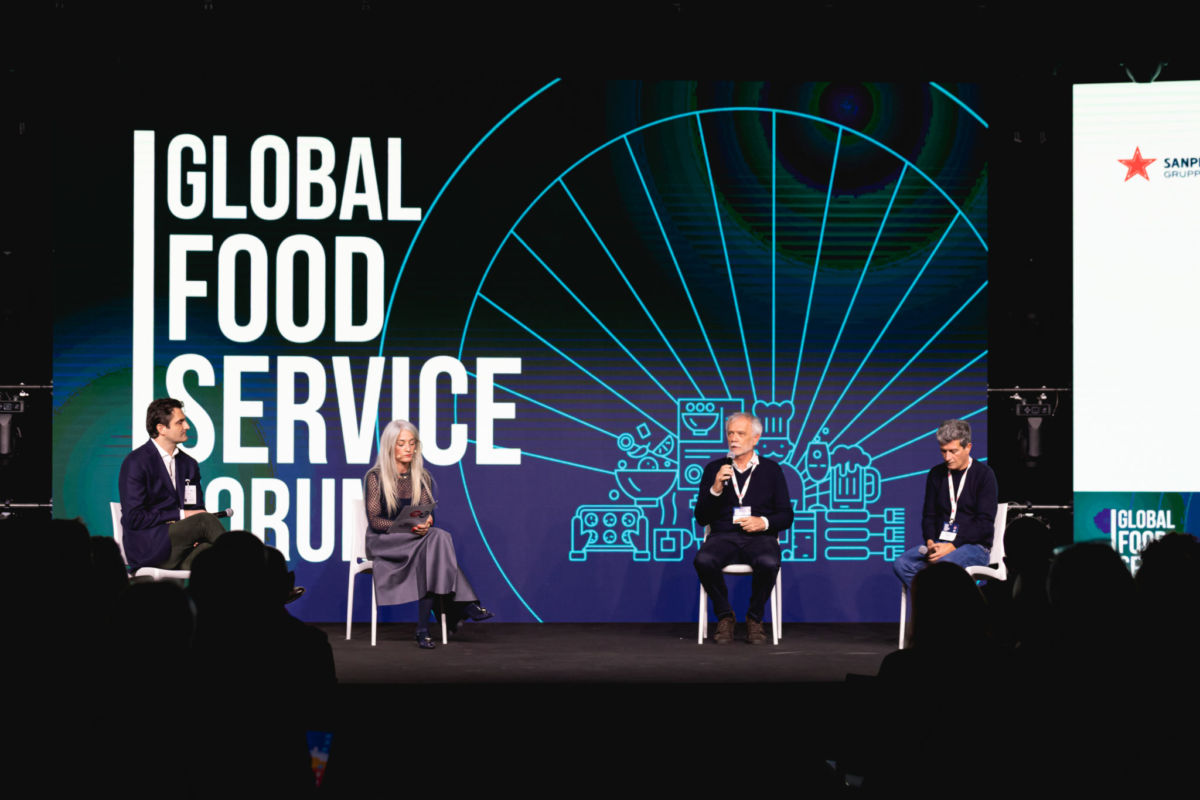 Nell'ampio parterre di aziende partecipanti al GFSF 2022, evento in collaborazione con Appetite for Disruption, hanno trovato spazio anche player di riferimento nel campo della progettazione e del marketing.
I contenuti sono stati raccolti in una ricca collana di interviste video, che pubblichiamo in questo articolo e sul canale social LinkedIn di Food Service.
Per tenerti informato sui principali trend che interessano il comparto dell'Out Of Home, abbonati alla versione digitale del magazine e alla newsletter.
LE VIDEO INTERVISTE

Patrimonio e food tech
L'importanza del Capitale nel comparto del Food Service e del Food Tech è fondamentale per Gianluca Dettori, Ceo di Primo Venture.
La società opera nel settore del venture capital e guarda alle società tecnologiche. In portfolio vanta realtà come Cortilia e Discovery, azienda che digitalizza i menu dei ristoranti.
Il fine drinking
Offrire qualità nel bere, soprattutto nei settori del fine dining e del fine drinking.
Questa è la mission di Sanpellegrino, rappresenta al GFSF 2022 da Ilenia Ruggeri, Head of marketing, Trade marketing & Innovation local della storica azienda italiana attiva nel settore dell'acqua e delle bevande.
Personale e foodservice
Duecentomila sono i posti di lavoro persi nel settore food & beverage durante i due anni di Covid. La priorità in questo momento, dunque, è reperire risorse sul mercato del lavoro. Partendo dai numeri, Alessandro Necchio, Head of Studio Necchio, affronta uno dei temi cardine nel processo di recupero del comparto del Food Service.
Un ingrediente fondamentale: la farina
La farina è un ingrediente fondamentale nella dieta mediterranea e nella tradizione della cucina italiana. Lo racconta con grande passione Pasquale Casillo, Presidente di Casillo Group, azienda che fissa nell'attività di ricerca e sviluppo e nella creazione di nuovi prodotti il proprio obiettivo principale.
Strategie di brand positioning
La crescita aziendale è guidata dalla strategia di ogni singolo brand, che ha un posizionamento e un target di clientela specifici. Questa la vision di Vincenzo Ferrieri nella conduzione di Gioia Group, basket company che tra fine 2021 e inizio 2022 ha visto l'ingresso nel proprio portfolio dell'insegna Fra Diavolo.
Ferrieri è attivo sul mercato anche in veste di Presidente Ubri (Unione Brand Ristorazione Italiana).
Strategie di marketing a 360 gradi
Le strategie di marketing e comunicazione sono un catalizzatore importante di quella che ritengo essere la leva principale di un format ristorativo e quindi del Food Service e del Food Retail. Ne è convinto Domingo Iudice, Co-Founder di Brainpull nonché Co-Fondatore & Marketing Director dell'insegna Pescaria.
Attenzione ai dettagli, anche nell'arredamento
Dai concept tradizionali, in cui il prodotto e il layout del ristorante devono essere coordinati; a quelli più "neutri", affini al segmento del fine dining, nei quali il prodotto deve emergere; sino all'ultimo trend, con al centro il prodotto e il cliente, che dà origine al concetto di experience. La progettazione dal punto di vista di Mirco Benedetti, Sales director di AFA Arredamenti.
Brand Awareness, per una crescita costante
Nata nel 2016, l'insegna Frankly Bubble Tea & Coffee conta ad oggi otto locali in cinque diverse città. 
Gelati Ting, Co-Founder e Coo della catena leader in Italia nel proprio segmento, illustra il piano di sviluppo e racconta come i tre round di investimenti ottenuti sino ad ora abbiano favorito la crescita e permesso di realizzare importanti progetti legati, ad esempio, al tema della sostenibilità.
Leadership: quali scenari futuri?
In Interbrand crediamo che i marchi siano prima di tutto un atto di leadership, con la funzione di avere impatto sui sistemi economici e sociali. Al GFSF, l'opportunità di confrontarsi con le insegne che stanno definendo il futuro del comparto Food in Italia e non solo. L'opinione di Lidì Grimaldi, MD Interbrand e moderatrice della prima tavola rotonda intitolata "Accesso a capitali d'investimento, opportunità e scenari".
© Riproduzione riservata