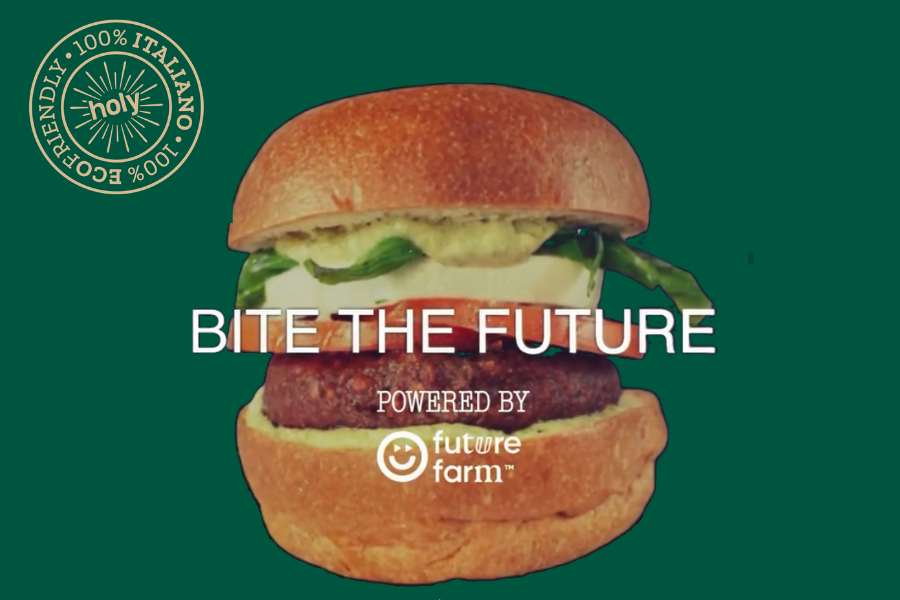 Future Farm scatenata sul fronte Horeca. Pochi giorni dopo le lezioni di "cucina plant-based" al Mercato Centrale di Milano, è arrivata l'ufficialità di un'altra interessante iniziativa che la vede coinvolta.
SVOLTA FUTURISTA
"Un panino che arriva dal 2030", così Ham Holy Burger ha annunciato in anteprima su Instagram il nuovo panino plant-based in limited edition sviluppato in collaborazione proprio con Future Farm. "Bite the Future", il panino che morde il futuro, è disponibile dal 3 novembre in tutti gli Ham Holy Burger d'Italia, con cui il format intende far breccia nel cuore, e nello stomaco, dei flexitariani.
Il nome del panino non potrebbe essere più azzeccato dato che la plant-based meat può e deve essere a tutti gli effetti considerata come l'evoluzione della carne e non la sua antagonista. A tal proposito Pedro Zuim, Marketing Director Europe di Future Farm, ha dichiarato: "L'azienda non è contro il progresso e l'esplorazione di nuovi mondi, la tecnologia è, anzi, parte del progetto di innovazione della carne attraverso il quale sì vuole attuare un cambiamento dell'industria di produzione della carne".
ENTUSIAMO E CURIOSITÀ
Raggiunto in esclusiva da Food Service, Franco Manna, fondatore del format, ha dichiarato: "Bite the future, rappresenta il modo di Ham holy Burger di essere precursore del futuro, in un mondo in cui è ormai chiaro che tutti hanno diritto alle proprie scelte: Ham si propone di dare la stessa opportunità di scelta ,sia per chi ha voglia dell'hamburger di carne ovviamente Fassona, sia per chi sceglie l' hamburger plant based di altissima qualità di Future Farm. Ham Holy Burger crede nelle scelte di qualità e non in chi fa un credo delle scelte estreme: carne sì/carne no! Future Farm in questo modo di pensare è un perfetto alleato.
"Siamo molto attenti e curiosi" – ha dichiarato Felippe Fontanelli, Head of Expansion Europe Future Farm – "rispetto all'accoglienza che avranno i nostri prodotti da parte dei consumatori del Bel Paese che sappiamo essere sempre più sensibili rispetto al tema della diminuzione di carne come comportamento sostenibile nei confronti della Terra".
© Riproduzione Riservata