L'out of home è uscito dal tunnel. Dopo un anno e mezzo di emergenza pandemica, che ha causato la chiusura a più riprese dell'attività di bar, ristoranti e hotel, il fuori casa ha ripreso la crescita ed è pronto a un balzo in avanti, grazie anche ad alcuni "strumenti" decisivi: digitale, finanza e real estate. Sono proprio questi i temi al centro della terza edizione del Global Food Service Forum, evento organizzato da Food Service in collaborazione con la community Appetite for Disruption (A4D), che si svolgerà il 25 ottobre prossimo al Talent Garden di Milano.
Perché digitale, finanza e real estate? La digitalizzazione è un processo che sta cambiando il mondo Horeca dalle sue fondamenta. Pensiamo, per esempio, alla spinta data dal digitale allo sviluppo del delivery, delle prenotazioni online, della configurazione dei menu, dei sistemi gestionali interni ai ristoranti. Una vera e propria rivoluzione che sta rendendo più rapidi ed efficienti i processi produttivi del settore.
La finanza, dal canto suo, sta dando un contributo decisivo per lo sviluppo delle catene organizzate. Negli ultimi anni, infatti, sono sempre più numerosi i fondi di private equity che hanno investito nelle insegne della ristorazione commerciale. Solo per fare qualche esempio: Permira ne La Piadineria, OpCapita in Rossopomodoro, Milano Investment Partners in Poke House, IDeA Capital Taste of Italy in Alice Pizza, White Bridge Investiments in Hamerica's e, ultimo in ordine di tempo, Equinox in Pizzium. L'intervento dei fondi ha permesso e permetterà alle insegne italiane di moltiplicare le aperture, in Italia e all'estero.
Terzo item, il real estate. Il mercato immobiliare è diventato decisivo per la ristorazione commerciale nelle città, nel travel retail e nei centri commerciali. Basti pensare alle possibilità offerte dalle società che progettano e realizzano grandi aree commerciali. L'ultimo esempio è la food hall inaugurata alla Stazione di Napoli da Grandi Stazioni Retail, uno spazio di 4mila metri quadrati dedicati al food, con la presenza di decine di insegne della ristorazione commerciale organizzata.
Alla terza edizione del Global Food Service Forum parteciperanno manager e imprenditori che illustreranno strategie e progetti volti a far crescere il mondo del fuori casa.
Di seguito gli speaker confermati:
Claudio Baitelli, AD – Alice Pizza
Stefano Caspani, Investment Director – DeA Capital
Diego Barozzi, Head of Sales – MyCia
Stefani Caspani, Investment Director – DeA Capital
Roberto Colombo, AD – Rossopomodoro
Sebastien De Rose, COO – Grandi Stazioni
Matteo Pichi, Co-founder – Poke House
Ailyssa Pretorius, Regional General Manager – Otter – EMEA
Jérémie Prouteau, Founder – DigitalFoodLab
Ilaria Puddu, Imprenditrice della Ristorazione
Sara Silvestri, Consultant – TradeLab
Gianluca Sinisi, Licence Partner – Engel & Völkers Commercial Milano e Lombardia
Emanuele Torre, Senior Investment Professional – OpCapita L L P
Alessandro Viola, Head of Corporate Sales – Nexi
PER INFO E ISCRIZIONI CLICCA QUI
Per usufruire di uno sconto, utilizza il codice FOODGFSF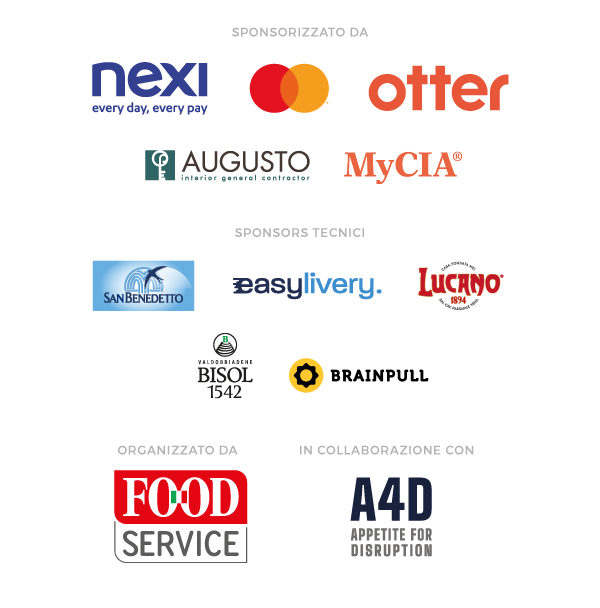 © Riproduzione riservata