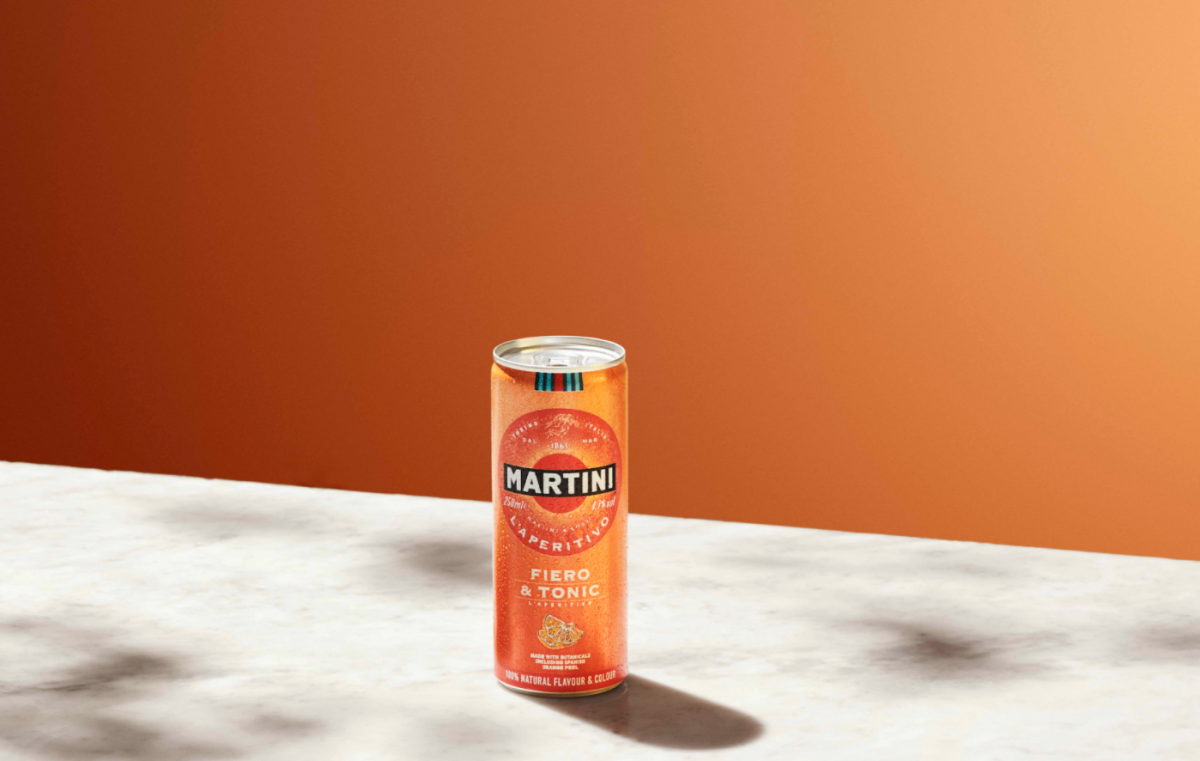 In Italia si dovrà attendere il prossimo primo di giugno per potere stappare la linguetta della lattina e assaporare in questo formato il cocktail Fiero&Tonic. Si tratta di un'operazione-novità che coinvolge i principali mercati europei e che, dallo scorso marzo, è già stata testata in anteprima su quello portoghese e tedesco. La lattina da 250 ml sarà inizialmente messa in commercio sulle principali piattaforme online (Winelivery e Amazon, le due prime piattaforme con le quali Martini ha già siglato un accordo commerciale.
IN ALTRI PAESI ANCHE LE DUE REFERENZE ANALCOLICHE
Fiero è ottenuto miscelando vermouth e botaniche italiane, con contenuta gradazione alcolica (14,9% Abv) e nel suo drink principale, il Fiero&Tonic appunto, lo si amalgama con una pari quantità di acqua tonica, andando poi ad aggiungere cubetti di ghiaccio. Il lancio in Italia riguarda soltanto questo prodotto in versione RtD, mentre in altri Paesi coinvolgerà anche le due referenze analcoliche Vibrante e Floreale, aperitivi commercializzati dallo scoro anno in Uk esclusivamente nel canale on-trade.
CONSUMO ON THE GO FAVORITO DALLE RESTRIZIONI
La decisione da parte di Bacardi Martini di portare in lattina i cocktail (operazione già avviata anche sul mondo spirit con il lancio del gin tonic in lattina firmato Bombay Sapphire e il Moiito Bacardi), è frutto di un contesto sociale mutato a causa delle misure restrittive per fronteggiare i contagi da coronavirus. Misure che hanno favorito il consumo on the go, considerando il divieto di stazionare di fronte ai locali. "Sappiamo che, con l'inizio della primavera, aumenta la socialità tra le persone negli ambienti esterni", ha dichiarato Victoria Morris, vice presidente di Martini. "Per questo riteniamo che il ready to drink sia la bevanda di qualità, che si può consumare comodamente senza rinunciare alla qualità". 
CRESCITA COSTANTE PER I COCKTAIL IN LATTINA
Si conferma, quindi, l'interesse generale verso il mercato dei ready-to-drink. In generale, questa categoria di bevande ha oramai conquistato molti attori del beverage mondiale, attratti dalle previsioni future. Secondo Iwsr, per esempio, i cocktail in lattina, da ora al 2024, registreranno una crescita media annuale pari al 41%. 
Numeri che ingolosiscono i produttori. Particolarmente attivo anche Diageo, che ha di recente lanciato a livello worldwide l'hard seltzer Lone River, oltre all'annuncio di avere investito 80 milioni di dollari per aumentare la capacità produttiva di ready-to-drink negli Stati Uniti, in modo da favorire la diffusione delle novità RtD che coinvolgono brand noti presenti in portafoglio, come Ketel One e Smirnoff.
© Riproduzione Riservata