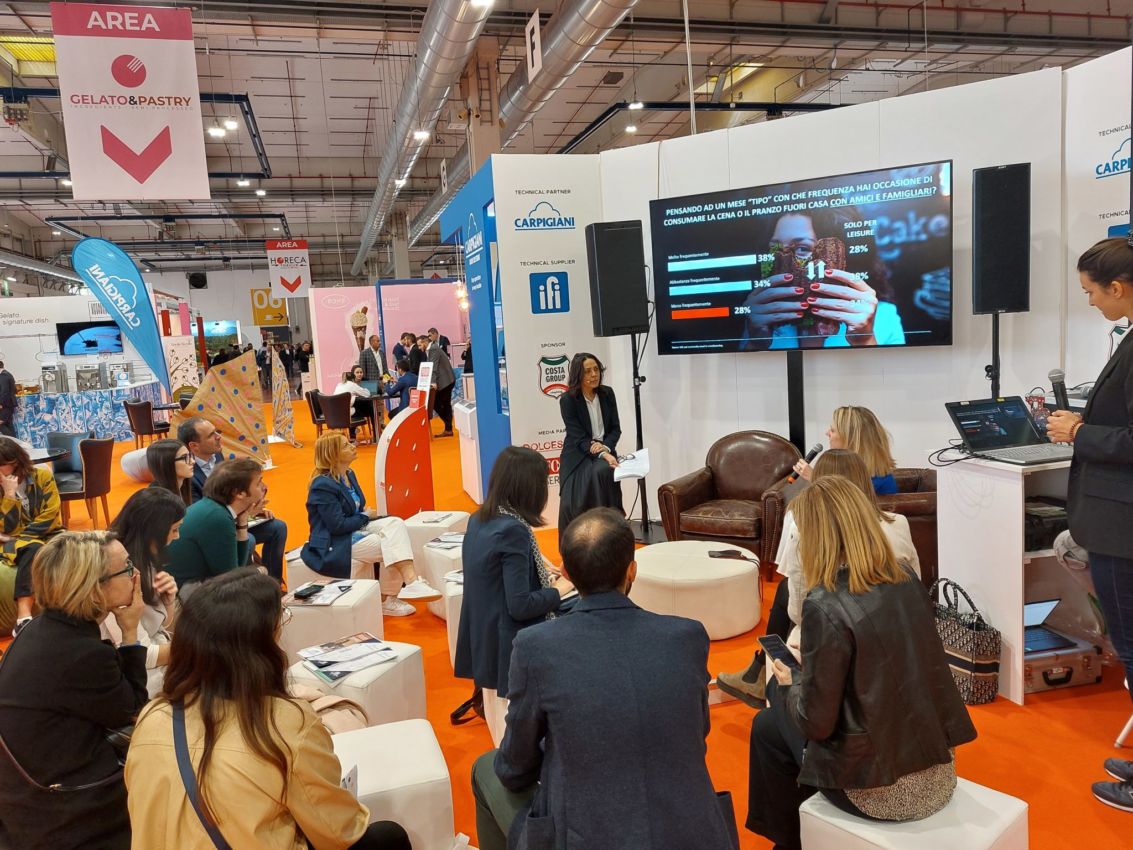 Qual è il valore del dessert nella ristorazione commerciale? A questa domanda ha voluto dare risposta il convegno organizzato da Fiere di Parma in collaborazione con Food Service all'interno dell'Area Gelato&Pastry di Cibus Connecting Italy, moderato da Monica Nastrucci, Capo servizio out of home Food Service.
All'incontro hanno preso parte Martina Fossati, Executive researcher & Project manager Bva Doxa; Giacomo Pini, Amministratore GpStudios; Maria Luisa Castiglioni, Ad Durini Milano; Fabrizio Frombola, Coo Sun Tzu Consulting, proprietaria dei brand La Filetteria Italiana, Tacomas Mexican Food, Magnakì, Waiting for Godot, Anita.
Per il 41% il dessert influenza l'esperienza out of home
Una prima risposta alla domanda è arrivata dall'indagine di Bva Doxa 'Il dessert nella ristorazione', da cui emerge che l'8% lo ordina sempre quando mangia fuori casa, il 35% lo fa spesso, il 31% qualche volta, il 21% raramente e il 5% mai. Il 50% dei boomer lo ordina il 50% delle volte in cui esce.
Il dolce è molto importante e abbastanza importante nella scelta del locale per il 34% degli intervistati, mentre lo è poco o per niente per il 32 per cento. La percentuale sale quando si parla della valutazione dell'esperienza vissuta: è molto importante per il 41%, lo è abbastanza per il 39% e poco per niente per il 20%.
Considerata la frequenza di acquisto (più di un terzo degli intervistati lo ordina spesso quando mangia fuori casa), come valorizzare la proposta del dessert per aumentarne la profittabilità? "Attraverso il personale, che deve essere formato e in grado di raccontare il prodotto al cliente – risponde Giacomo Pini –, l'impiattamento, ma anche la carta dei dolci, che deve essere facile da leggere, quindi avere una proposta intuitiva; corta, con poche proposte ma di valore; studiata nel suo complesso, per essere compresa dal cliente, come se non ci fosse un 'rivenditore'".
Nel futuro c'è il gelato
'La carta del dessert nel fast casual e fine dining nella ristorazione commerciale' è stato il tema della seconda parte del convegno in cui Maria Luisa Castiglioni e Fabrizio Frombola hanno presentato l'offerta dolciaria dei propri locali e come pensano di modificarla e valorizzarla nel prossimo futuro.
"I dati di mercato ci raccontano che nel 5% delle visite effettuate nella ristorazione a catena è presente una consumazione di dolci (fonte: TradeLab) e che otto volte su 10 il consumo riguarda il momento della cena, prioritario, e del pranzo – ha affermato Castiglioni –. Il mercato ha subito una grande trasformazione, perché deve soddisfare le esigenze di quei clienti che cercano proposte free from o lactos free. Allo stesso tempo l'avanzata dello smart working ha generato ulteriori cambiamenti, dovuti al minor numero di ingressi, che genera due difficoltà contrapposte. Da un lato mantenere un'offerta profonda, ma sempre fresca, dall'altro sfruttare il dessert per compensare le minori transazioni e aumentare lo scontrino medio. Così abbiamo selezionato fornitori industriali a cui abbiamo terziarizzato la produzione dei dolci private label e abbiamo sostituito le multi-porzioni con prodotti monodose che possono essere decongelate in breve tempo. Inoltre, abbiamo implementato i prodotti al cucchiaio, inserito mini-porzioni che in pausa pranzo possono essere abbinate al caffè e inserito un caffè gourmet con un tris di assaggi di dolci. Nei prossimi mesi, invece, aggiungeremo un'ampia offerta di gelati: una linea di affogati e mini affogati al caffè. Ma credo che nel prossimo futuro, con il gelato, dovremo cercare di soddisfare anche le esigenze funzionali".
"Nei locali La Filetteria – ha fatto sapere Frombola – proponiamo sette dessert diversi: cannolo, pan di spagna al pistacchio, cheescake ai frutti di bosco, torta al cioccolato e pere, tortino al cioccolato e tiramisù gluten free. Oltre il 90% dei dolci arriva da una pasticceria di Amalfi. Il cannolo, invece, lo produciamo internamente nel nostro laboratorio di Trezzano sul Naviglio (Mi). In generale, su una media di 5.000 item venduti, i dolci pesano l'11 per cento. Nel prossimo futuro vogliamo spingere sui dessert, internalizzando risorse e know-how. La nostra intenzione è anche quella di introdurre nel menu il gelato e stiamo valutando l'ipotesi di inserire le foto nel menù".
© Riproduzione riservata