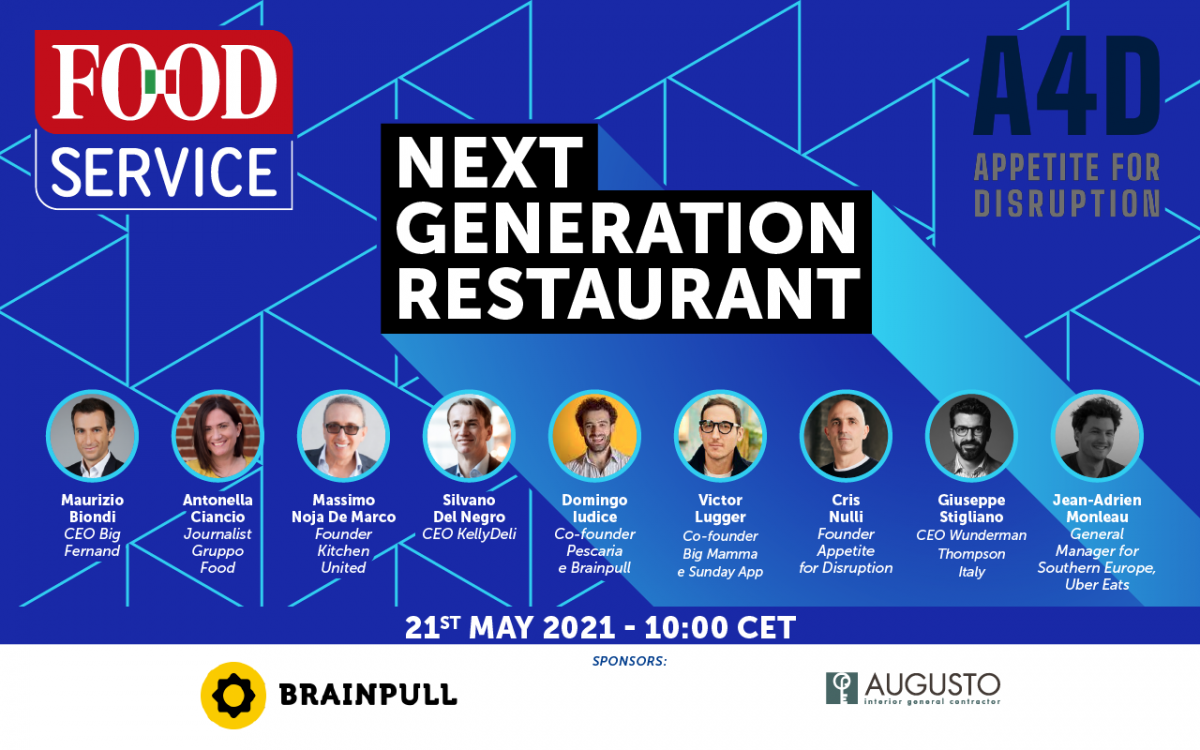 La ristorazione di nuova generazione sarà un ecosistema di brand virtuali e luoghi fisici, app di pagamento facili e integrate, qualità premium e robotica avanzata. Un mondo disegnato per essere interamente al servizio del consumatore ovunque si trovi.
I principali innovatori del settore food service in Europa e negli Stati Uniti ne hanno parlato venerdì, 21 maggio, nel primo webinar internazionale sul tema organizzato da Food Service e Appetite for Disruption (A4D) e dal titolo "Next Generation Restaurant".
L'evento, prodotto con il contributo di Augusto Contract, principale general contractor per progetti di foodservice, e dell'agenzia di comunicazione Brainpull, ha affrontato temi di forte attualità quali dark kitchen, food delivery, brand virtuali, investimenti e innovazione.
"La ristorazione offre molte opportunità ma occorre comprendere quali sono le dinamiche per cogliere quelle giuste per il proprio business", ha spiegato Cris Nulli, fondatore di A4D, think tank specializzato in food tech e food retail.
"Lo scenario emerso dal webinar di A4D e Food Service è quello di un'industria in profonda e rapida evoluzione trainata dal digitale. Le stime di crescita vengono aggiornate di continuo, complice anche la spinta data dalla pandemia. Prima del Covid si stimava che nei soli Stati Uniti il settore della ristorazione "off premise" potesse generare 50 miliardi di ricavi entro il 2030. Previsioni più recenti puntano a 300 miliardi di dollari entro il 2025", ha spiegato Massimo Noja De Marco, co-fondatore della società californiana Kitchen United e pioniere nel campo delle ghost kitchen negli Stati Uniti.
Il food tech è uno dei driver del cambiamento in corso, ha spiegato Nulli.
"Nei primi quattro mesi del 2021, gli investimenti in food tech nelle top 50 startup europee erano superiori a quelle nell'intero anno 2020, Questo picco indica una grande opportunita per chi vuole innovare", ha illustrato Nulli, citando dati della società di consulenza DigitalFoodLab.
Pochi esempi: tre ristoranti su quattro prevedono di offrire servizi per ordinare "contactless" attraverso tutti i canali, mentre il 91% dei ristoranti valutano di adottare sistemi di automazione per rendere più efficienti le cucine, ha detto Nulli nella sua presentazione.
Anche giganti mondiali del food and beverage hanno adottato il modello di business virtuale. Unilever ha lanciato The Ice Cream Shop, negozio virtuale di gelati consegnati da Uber Eats, Doordash, Postmates e Grubhub, e Pepsi un dark store usando il concept di ghost kitchen.
Cresce dunque la concorrenza tra nuovi players, come anche l'interesse di fondi di private equity. Nulli ha citato gli esempi del brand virtuale Taster e della catena italiana di ristoranti Poke House che nel 2021 hanno raccolto rispettivamente 44 milioni e 24 milioni di dollari.
L'app di pagamento Sunday con 29 milioni di dollari ha ricevuto il più grande investimento in Europa di capitale "seed"  per startup di ogni settore.
Il co-fondatore di Sundayapp e del gruppo di ristorazione francese Big Mamma, Victor Lugger, ha spiegato da Parigi come la nuova app consenta di pagare in pochi secondi al ristorante semplicemente cliccando su conto che appare sullo schermo del telefonino. Il risultato, ha spiegato Lugger, è minor tempo ai tavoli con una rotazione più rapida del 10% e mance più alte.
"L'idea è nata durante i lockdown. Ci annoiavamo poi abbiamo pensato a questa app per la nostra catena di ristoranti. L'adesione è stata tale da convincerci a lanciarla in UK, Spagna, Francia. Abbiamo raccolto fondi in meno di due settimane", ha detto Lugger.
In prima linea sull'automazione è Massimo Noja De Marco, fondatore di  Kitchen United, società co-finanziata da Google Ventures che fornisce cucine super efficienti a operatori off premise. "Ora mi occupo di robotica e di portare l'intelligenza artificiale nelle cucine," ha detto l'imprenditore.
L'obiettivo è sempre stato aiutare gli operatori a crescere, ottimizzando costi e qualità nei processi. Con questa missione è nata Kitchen United Mix, una piattaforma che offre ai ristoratori costi minori di delivery e che reinveste parte delle entrate in marketing generando nuovi clienti per i ristoranti. Il passo successivo è stata l'introduzione di processi di automazione come l'uso di un nastro trasportatore per trasferire i pasti ai conducenti e accelerare i tempi di consegna.
Se la tecnologia sta rivoluzionando il food in termini di efficienza e gestione dei costi, un'altra spinta innovativa viene dalla ricerca di qualità e dalla transizione di catene verso il settore premium.
La catena francese Big Fernand, che ha introdotto il burger "gourmet", è oggi una società di 60 milioni di euro di fatturato con 55 ristoranti prevalentemente in Francia. La prossima sfida, ha spiegato da Parigi il CEO di Big Fernand Maurizio Biondi, è la multicanalità per servire il consumatore tra ristoranti e store virtuali senza soluzione di continuità. "La crisi ci ha offerto la possibilità di ripensare alla nostra strategia. Il focus ora è un nuovo mix tra on premise e off premise. Non torneremo più alle precedenti esperienze," ha detto Biondi, evocando un sistema semplificato per il consumatore che ordina sia online che al ristorante. "Nella ristorazione accadrà quello che è accaduto nell'abbigliamento," ha detto il top manager.
Sposare il modello dark kitchen è stata un'opportunità anche per Silvano Delnegro, CEO della francese KellyDeli, proprietaria del brand Sushi Daily.
Sushi Daily gestisce oltre 1,000 chioschi in supermercati e ipermercati attraverso l'Europa in 11 paesi. Lanciata nel 2010 dall'imprenditrice Kelly Choi e dal partner Jerome Castaing, KellyDeli ha un fatturato di circa 400 milioni di euro e punta a espandersi in America centrale e Medio Oriente.
"Il canale dark kitchen è complementare al nostro business", ha detto Delnegro. "Un modello non cannibalizza l'altro ma si rivolge a un consumatore che può voler un pasto pronto. Il coinvolgimento del consumatore sarà chiave nel futuro", ha spiegato il manager.
Il webinar ha ospitato anche un colloquio inedito su trasformazione digitale e innovazione tra Giuseppe Stigliano, CEO di Wunderman Thompson Italy, eautore con il professore Philip Kotler del volume "4.0: 10 guiding principles for the digital age", e Jean-Adrien Monleau, General Manager per il Sud Europa di Uber Eats. 
Monleau ha citato i maggiori trend che stanno ridisegnando l'industria, tra i quali l'ingresso di chef con stella Michelin nel food delivery, il lancio di servizi di solo delivery, e l'adozione di app per consegna a domicilio da parte del grocery.
"Ci stiamo abituando alla convenienza della tecnologia anche nel food", ha detto Stigliano. "La consegna della spesa è il settore a più forte crescita per Uber Eats", ha notato Monleau.
Stabilire una conversazione diretta e autentica con il consumatore è stata una importante leva di crescita per Pescaria, un concept di dark kitchen legato esclusivamente al pesce crudo e cotto, con opzioni di take away e consegna a domicilio che da Polignano a Mare in Puglia è ormai presente in diverse città d'Italia.
"Non esiste automazione senza conoscenza", ha detto Domingo Iudice, fondatore di Pescaria e dell'agenzia di comunicazione Brainpull, illustrando come la customer satisfaction sia misurabile e scalabile grazie alle nuove interazioni digitali.
Le presentazioni degli speakers:
Sponsored by

© Riproduzione riservata