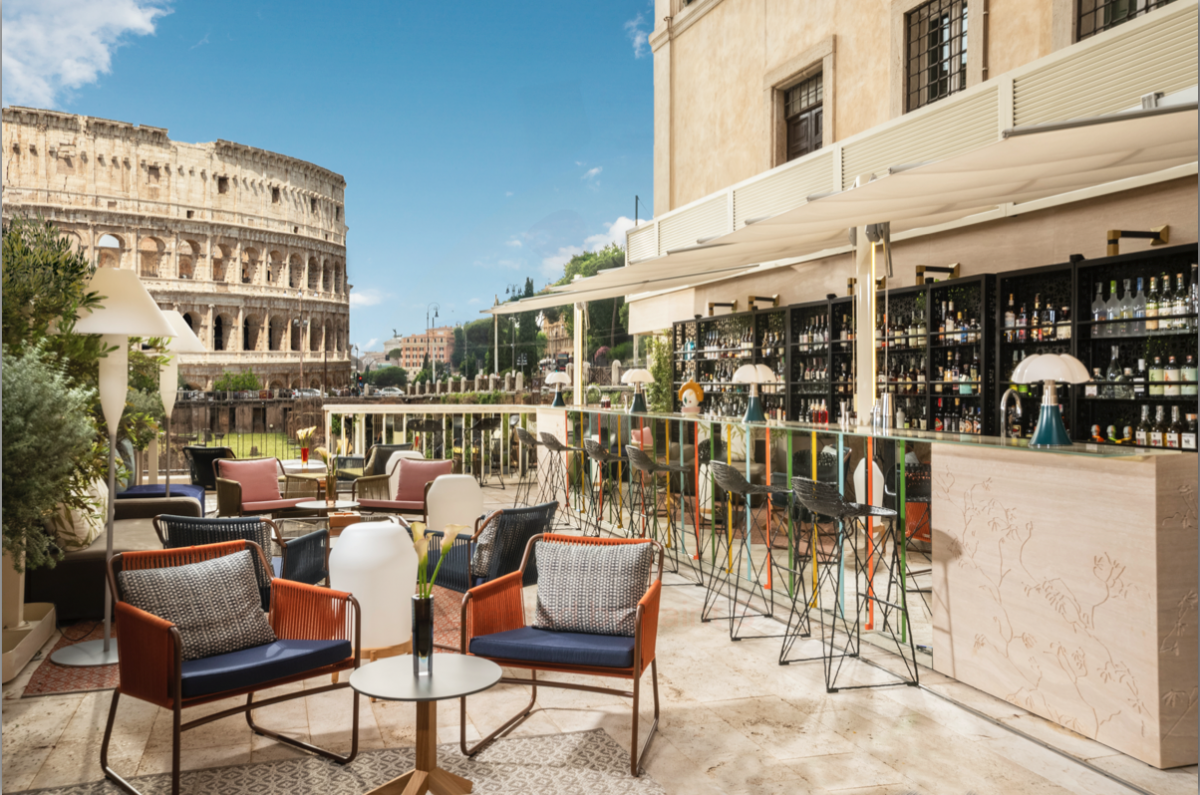 La miscelazione a Roma scalpita. Si aspetta il semaforo verde per ripartire di gran carriera, ma attualmente molti mixologist sono fermi ai box con i locali ancora chiusi. E così a Matteo 'Zed' Zamberlan è venuta un'idea che ha concretizzato in un progetto chiamato Roma 4 Roma. Progetto che prevede di aprire il bancone del suo locale, il The Court, lounge bar in terrazza del Palazzo Manfredi, hotel a cinque stelle situato nel cuore di Roma, ad alcuni colleghi disoccupati o in attesa di riaprire il proprio bar, offrendo loro la possibilità di esibirsi con shaker e misurino.
APPUNTAMENTO OGNI GIOVEDÌ A PARTIRE DAL 4 FEBBRAIO
Ogni giovedì, quindi, a partire dal 4 febbraio, si avvicenderanno al banco alcuni dei più conosciuti mixologist di Roma, alternati ad altri più giovani e ritenuti outsider di belle e future speranze. Dalle ore 15 alle 18, osservando le regole stabilite daI Dpcm, i guess bartender prepareranno cocktail agli avventori del locale dell'albergo, in pairing con alcune sfiziose ricette food preparate nella cucina del The Court.
Ogni drink sarà venduto a un prezzo scontato di circa il 50% rispetto a quanto solitamente prevede la drink list del locale.  Ad aprire le danze sarà il barman Mario Farulla, a seguire una lista di bartender (Pistolesi, Rossi, Artusio, Bassetti e molti altri ancora) che hanno immediatamente aderito alla proposta, confermando che i prossimi 15 appuntamenti hanno già stabilito chi sarà presente dietro il banco. 
SOSTEGNO DA IMPORTANTI AZIENDE DEL BEVERAGE
Il progetto ha ottenuto l'importante sostegno di alcune delle principali aziende del beverage che forniranno gratuitamente i loro prodotti per la miscelazione.
"L'idea è nata alla luce del fatto che alcuni colleghi si ritrovano oggi a non potere lavorare o sono purtroppo rimasti senza lavoro", ci spiega 'Zed', contattato telefonicamente. "Molti bar hanno riaperto e poi subito chiuso, altri hanno preferito non riaprire in attesa di tempi migliori. Per molti la situazione è davvero difficile. Avendo la fortuna di lavorare, dato che il The Court è rimasto sempre operativo, mi sono sentito quasi un 'privilegiato' e così ho deciso di ospitare al bancone chi oggi non se la passa bene. Per il bartender che partecipa è l'occasione di tornare a fare ciò che adora, vale a dire preparare squisiti cocktail, mentre per gli avventori c'è la possibilità di ordinare il drink preferito chiedendolo al loro barman preferito. L'obiettivo è chiaro: Roma e i suoi mixologist scalpitano e non vedono l'ora di tornare in pista". 
Ogni bartender aderisce a titolo gratuito al progetto e, alla fine della sua performance lavorativa, le bottiglie rimaste gli vengono omaggiate. Per conoscere il programma e chi miscelerà di volta in volta dietro al bancone è sufficiente visitare la pagina del The Court.
© Riproduzione Riservata